SP591 SINGLE NEEDLE POST BED WITH AUTOMATIC BACKTRACK STITCH SEWING MACHINE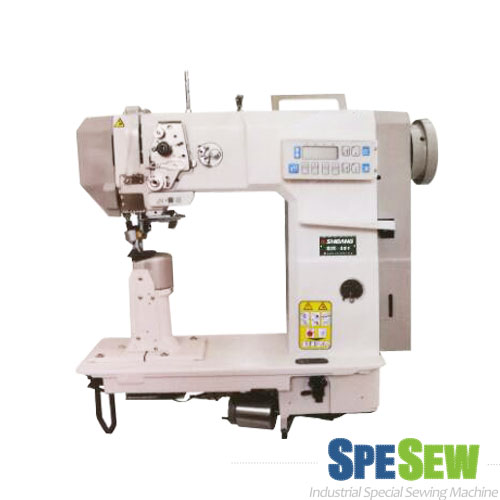 1. Function:
Automatic backtracking
Automatic trimming
Automatic up foot lifter
One piece design
2. Usage And Specification:
For riding boots, sports shoes, work shoes, casual shoes, sponge shoes, baby shoes,high quality leather shoes.
3. Features:
1.SP591 Post-bed high-speed seamer for shoe manufacturing,
2. it is especially available for sewing on medium heavy weight articles witharc-shaped, such as superior leather shoes, hand bags, gloves, caps, youetc, it ensures you easy daily maintenance.
3.No compressed air required, all electronic control.
4.Optimized kinematics with new part sets guarantee top sewing results.
5.Easily adjustable thread trimmer for short thread ends.
6.Over load cluth for hook protection.
7.Easily and accurately adjustable needle guard.
8.Amulitifnction switch with pre-programmed functions is integrated in the sewing head for:-Reverse sewing/intermediate backtacking-Selection of pre-wer speed
9.The latest spindle direct-drive motor system;
10.Excellent high speed performance and needle through force, Strengthen the sewing strength;
11.The superior mechanical properties, it ensures a longer service life;
12.A variety of functions such as tacking, trimmer, back stitch, greatly improve the working efficiency;
13.Power saving, economic and practical;
14. Improve safety performance;